How to Design
Step 1

Choose The Item You Want
There are Hoodies, shirts, blankets, etc. for your choice.
Step 2

Choose The Design
Use the default picture or Upload your own
Carica La Tua Foto
Scegline uno che ti ricordi un ricordo felice!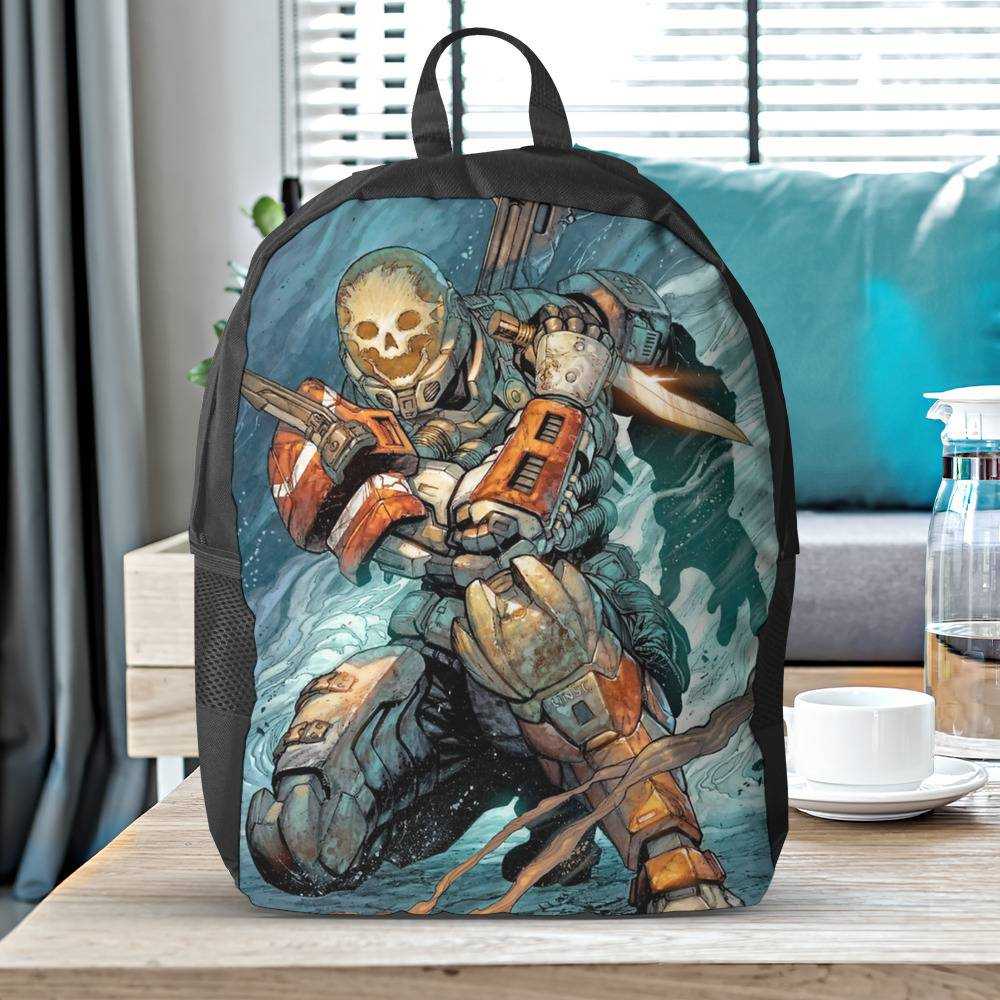 Halo Backpack Emile Backpack
description

Design your everyday with Halo backpack you will love to snuggle up with. Match your style with patterns and designs from our professional design team. Original design. Create a personalized gift with a photo of Halo.
Material: This backpack is made of water resistant and durable Oxford cloth with metal zippers.
Product Size: 16.5" * 12.5" * 5.5"
Applicable People: Recommended for Age 6+
Applicable Scene: School, travel, climbing, shopping, zoo, park, outdoor sports, etc.
shipping

Free shipping for orders over $49

You can choose the shipping method during checkout:

Standard shipping: $7.99

Arrives 7-15 business days after the production time

Express Shipping: $29.95

Delivery 4-6 business days after the production time
Halo Infinite Merch - Welcome all Halo Infinite fans!
If you're a die-hard Halo Infinite fan, or just a casual fan looking for some great Halo Infinite merchandise to add to your idol's merchandise collection, you've come to the right place. Halo Infinite, like other shooter games, has millions of followers from all over the world. Halo Infinite's merchandise is a sought-after item, and our store offers high-quality clothing and accessories for fans of shooter games.
Halo Infinite - Shooter Game
Halo Infinite is a first-person shooter game developed by 343 Industries and published by Xbox Game Studios on Microsoft Windows, Xbox One, and Xbox Series X/S platforms. The game is the sixth major entry in the Halo series. The game is set after Halo 5: Guardians and continues the story of the Master Chief.
Halo Infinite's Career
Halo Infinite was developed by 343 Industries with assistance from SkyBox Labs, Sperasoft, The Coalition, Certain Affinity, and Atomhawk. The studio's idea is for Halo to be an open-world game, taking inspiration from other video games such as The Legend of Zelda: Breath of the Wild, the idea is to allow vast open areas to be explored and free to complete games in any order. While acceptance of Halo 5 has been generally positive, the campaign has been criticized for not including enough Master Chiefs. 343 Industries promises a renewed focus on future characters.
It takes advantage of the new Slipspace engine. The game was written by Paul Crocker, who is also the campaign's associate creative director. Justin Dinges and Nicolas Bouvier were selected as artists. The multiplayer portion of the game is being directed by Tom French, Associate Creative Director of Multiplayer, and Pierre Hintze, Head of Multiplayer Programs and Partnerships. The tools used for the Slipspace engine use a basic development tool called Faber. Some parts of Faber date back to the early 2000s and were also used in Bungie's Halo game. As a result, its coding was notoriously difficult to use by 343 Industries and was considered technical debt.
The gameplay, released on July 23, 2020, was criticized by the gaming community for the visual quality of the game, which led to further changes in development. On August 27, 2020, 343 Industries announced that Joseph Staten, the former lead writer and film director of the Bungie Halo series, has joined Halo Infinite's campaign as project leader. 343 Industries later announced that Staten's role had been changed to Halo Infinite's creative lead. Stanton persuaded Microsoft to delay the game until 2021 in order to release a stable release. He offered a list of reasons why the game would be better if the deadline was pushed back. When the game lags, features are added and improved, including graphics.
Halo Infinite saw the return of split-screen multiplayer in response to backlash over its removal in Halo 5: Guardians. The game supports cross-play and cross-platform save progress between the Xbox and Windows versions.times.
What items is this Halo Infinite Merch available in?
Halo Infinite's merchandise is for big fans of shooter games. Hoodies, hats, t-shirts, and Hawaiian shirts are staples of our Halo Infinite merchandise. In addition to these top items, you can also buy other Halo Infinite products from us such as accessories, phone cases, wall clocks, tote bags, stickers, canvas, pillows, mugs, and blankets. You can buy any product you like without worrying about quality or price.
Halo Infinite Merch Mission!
Halo Infinite Merch is a platform that provides customers with quality merchandise at affordable prices. Our store also provides free shipping on all orders over $49, and we promise to deliver your order in a timely manner.
We aim to provide excellent customer service because our goal is to make sure that every customer who shops with them feels satisfied with their purchase.
Got a question? Need some advice? Or having problems with tracking? Just email us anytime at cs@haloinfinitemerch.com